evidently pediatricians these days have no qualms with sticking things into kid's ears, or removing foreign particles from said ears. apparently no one told them in their years of med school that sometimes people dont like that. i can't talk, but i thought i was making my wishes clear with all the flailing and screaming. it seemed pretty obvious to me.
i spent a good deal of time hyperventilating after that. i felt so betrayed! i brought my mom with me but what good did she do? yeah, she rubbed my back and sang five little ducks, but where was she when i needed her? and that's when i realized that we were still sitting in the office. farm animals papered the walls and fun looking toys were arranged on a table nearby, but i'm no fool! this is not a fun place, and there i sat in my mothers lap, still near hysterics, and we didnt seem to be going anywhere. then came the nurse.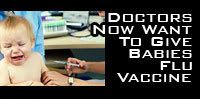 have you heard of this?! aren't there laws against inflicting pain on children? surely mom would put a stop to this right? no! she allowed this woman to stick a NEEDLE into my leg! somehow i will find revenge! just wait till the next time you take my diaper off mother! victory will be mine!! no amount of donut holes will make me forget about this! wait is that chocolate?